What's an easy gift that can be personalized and made in 15mins?  A sock snowman of course!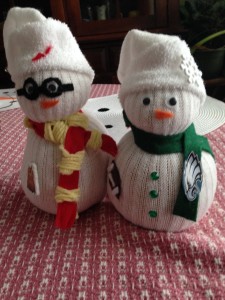 A what?  A Sock Snowman? What is that????
Well, let me tell you.  A sock snowman is a snowman made with rubber bands, rice, men's socks, a hot glue gun, and personalized items.  It is easy, fast, and I love that you can personalize it any way you want for any time of the year!  I made 10 of them for Christmas gifts.  You can see the harry potter and eagles one above.  I also made a hunter, patriots, and princess snowman.  Then I made the usual Christmas snowman for decorations as well.  I even got most of my supplies at the dollar store!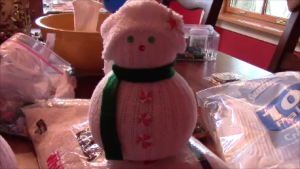 As usual, there is a youtube video tutorial and the written instructions below.  These make great gifts for any occasion and are quick and easy! Enjoy!
What you need:
-Hot glue gun
-Crew socks or longer
-Any type of rice
-Rubber bands
-Decorations such as eyes, stick ons, felt, buttons, bows, pins
Take your crew sock and cut below the ribbed area (the bigger the snowman the lower you want to cut (the bottom part will be the hat of the snowman).
Turn the top ribbed part inside out and place a rubber band tightly on one end
Turn it right side out and pack with rice. Make sure you continuously pack it down with your hands to give the snowman a fuller shape.  Leave a small area on the top and then close it with another rubber band.
Put a rubber band on the top then 1/3 of the way down place another rubber band as tight as you can and adjust the rice to form the body and head of the snowman.
Now time for the fun part- decorating!
The scarf can be made out of felt, scrap fabric, or even a crocheted or knitted scarf!  I did this with camo yarn for a hunter snowman.
I used the hot glue gun to make sure everything stayed in place including the scarf and hat!
Take the bottom part of the sock and fold top of it and place on top of the snowman's head for the hat!  Feel free to decorate the hat as well.
I made my sister a harry potter snowman.  I also made a hunter camo snowman, princess snowman, patriots snowman, soccer player, and Christmas themed
snowmen.
Congrats you are done!  Good job!  Post your pics!
Share


Follow