Cloth baby books are an easy sewing project that your little one will enjoy!  You can also embellish and make it more interactive.  Cloth books are great toys as well!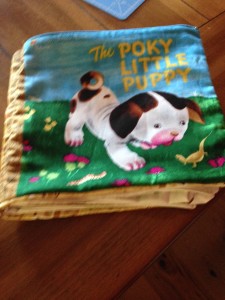 There are several places to purchase panel fabric for cloth books; however, it is very hard to find in actual stores.  They are mostly sold online. You can also make your own cloth book!  The following tutorial is how to make a panel cloth book. If you would like to make your own cloth book that is not from printed panels, I would suggest the following sites for ideas: Color book , animal book ideas
Today, I put together the classic The Poky Little Puppy cloth book. It is quick, easy, and you can customize it as well!
Here's a quick Youtube tutorial for all those audio visual learners (and below is the written method):
Okay, so let's get started!  You have your panel, you have your scissors, thread, machine, and batting for in between.  Now as far as batting goes, you can use almost anything!  It depends if you like your cloth books thicker or thin, crinkly or quiet.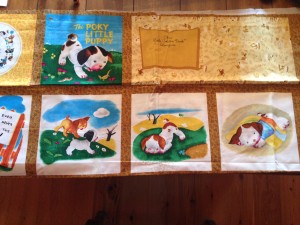 I actually used leftover fleece I had from another project which made my book nice and thick.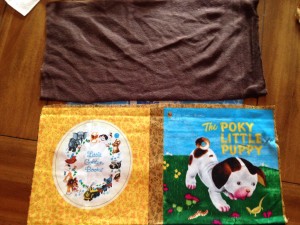 You panel will most likely come with instructions that are easy to follow.  Just make sure you remember to mark your page numbers so when it's all cut you know which page is which.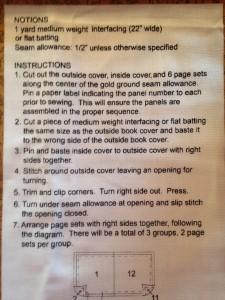 So cut the panels out as instructed.  Usually you want to cut two of the panels (pictures for the book) out in one large rectangle.  Do this for all the two pages as instructed.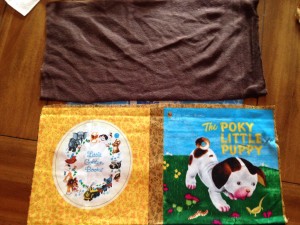 Next, you want to cut your batting or interface to the same size as one of the two page sets.  You usually cut one batting per two sets of panels cut (follow your instructions).  You want to take your batting or interface then and sew it on the back of the panel piece (Sew all the way around it will be the backside of the panel pages).  So you should have half of your panel sets that are cut out with batting sewed to the back.
You may also want to add some interactive pieces to the cloth book such as large buttons, ribbons, or other pieces of fabric.  This is the time to do this.  Just make sure it is sewn very tight and secure.  Also use very large buttons or pieces.  For this project I just cut out some of the fleece and attached it to the dogs ears so my little one can pull at the ears in the book.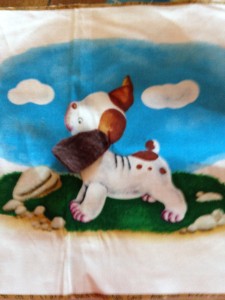 Then, you want to sew the page that corresponds as instructed face down to the other page cut out with batting sewed on.  You want to sew all the way around but leave a 2 inch opening so you can pull it right side out.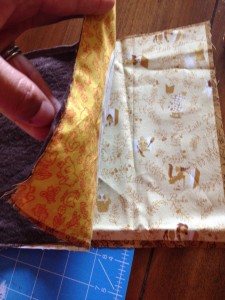 Then pull right side out and close the hole with a simple loop stitch or your stitch of choice.  And WALLAH you have four pages complete!  Good job!  Follow the rest of the instructions as to what pages line up with sewing and complete them.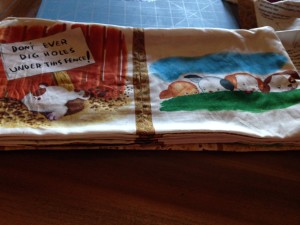 Lastly, you want to line up your pages as instructed by your instructions.  Lay them all flat as shown above and you will sew right down the middle.  Don't forget to backstitch!  Your cover tends to be larger than the inside pages.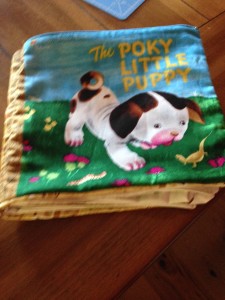 That's it, very simple, quick, easy, you just have to follow instructions! Good Job!  Now go enjoy it!
Share


Follow