In one of my last tutorials, I showed you how to make a super cute sleeper.  Now, here are the matching slipper shoes!
What you will need:
Fabric of choice
1/4 or 1/8 inch elastic
Thread color of choice
Optional: buttons or bows
I used a free pattern from marked crafts- > shoepattern
So lets get started!  here is the video tutorial and below that is the written and picture format.
Cut your pattern out and decide on your color/colors you want to use (you can use two colors!
Cut out your pieces- there should be 4 of each piece
Take your upper pieces (the two sided rounded pieces) and place them pattern facing pattern as usual.
Then sew the non-rounded part only (the bottom of it)
Turn right side out, then iron you piece down with the right sides out and sew a nice little line across the outside where it is sewn together.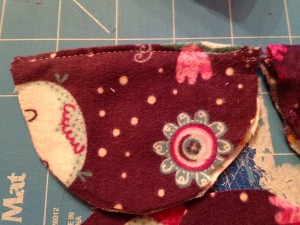 7. Take your heel pieces (the long rectangles), and place the pieces facing eachother (as usual) and sew just down one long side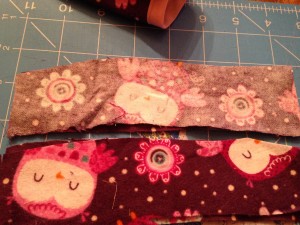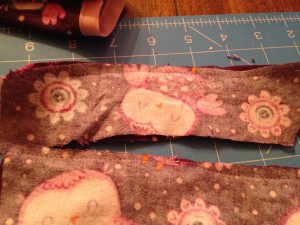 8. Cut your elastic to 4 inches long (2 pieces).  Pin it to one end of the sewn heel piece.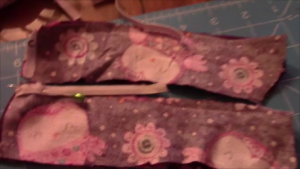 9. While sewing stretch the elastic and sew using your zigzag stitch across the length of the fabric
10. It will be curled up as shown above.  Turn right side out.  Pin and sew below the elastic and all the way around the whole piece to make it look nice and then trim as needed.
11. Place sole pieces together with patterns facing eachother, use a basting stitch (set your stitch to longest number and do not backstitch).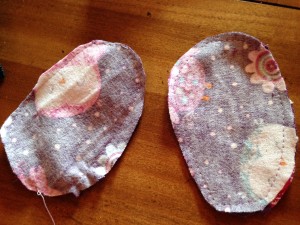 12. Pin together the heel and the front piece, adjust it to be the appropriate size for the baby/infant you are making it for.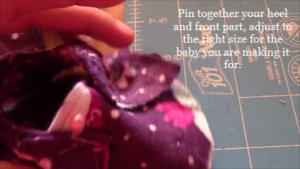 13. Sew straight across where you already have the previous sewn line from the front piece.  Then trim the rest off.  This makes a nice neat line when you are finished.
14. Find the middle of the sole and the middle of the top part.  You can do this easily by folding in half.  Line them up together and pin.  (the back of the sole is the smaller part). Have the top part the wrong side still out to pin.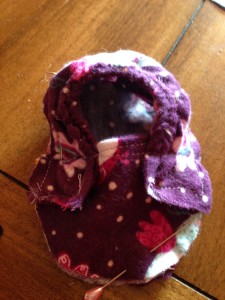 15. Now sew all the way around! Almost done!  Doesn't it look so cute?
16. Trim the excess fabric being careful not to cut too close to your thread line.
17. Now turn right side out!  And WA-LA you are done!  You can add a button, ribbon, or any other accessory you want!  Great JOB!  Lets see those pictures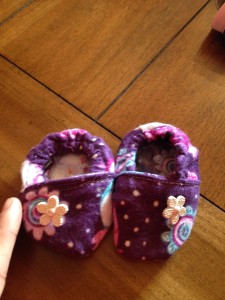 Share


Follow