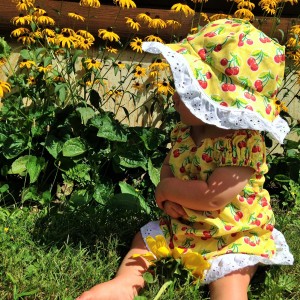 Are you looking for a cute sunhat to shade your little one from the sun?
Well, this matching reversible hat is the perfect one!  It works great for pictures and photo shoots as well.  The hat is also an easy pattern that can be completed in under an hour.  The hat really completes the outfit as you can see above!!!
You can look back at my last tutorial on how to make a peasant dress to make a matching dress.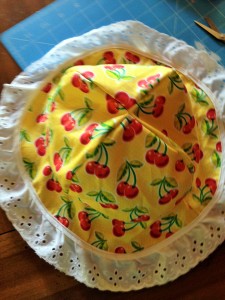 What you will need:
The free pattern here:    sunhat 001
fabric (can do one color or two)
lace and or buttons (optional)
scissor
matching thread
For the people who enjoy a visual demonstration, below is the YouTube video.  Following that, is the written and picture directions.
Okay, first you need to cut out your pattern pieces.  You need 8 crown pieces and 4 brim pieces.  If you want two different colors for each side then its half in one color half in the other!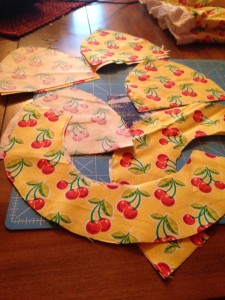 Next, you take two of your crown pieces and place them together with fabric patterns facing each other.  Pin and sew down one side.  This is what it will look like unfolded.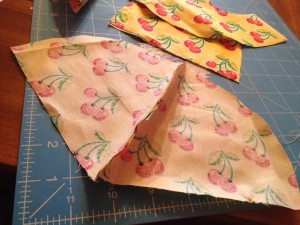 Then take another piece and place on one of the two pieces sewn together.  You again want fabric pattern to fabric pattern facing each other.  Then sew the one side.  Do this until you have four pieces.  Once you have all four pieces sew the four side together as well.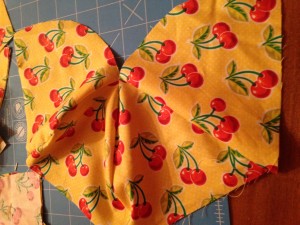 And WA-La!  You have your first crown hat completed. Now start the process again with either the same color, or if you are using a different color scheme on the other side of the hat use that.  Complete another crown.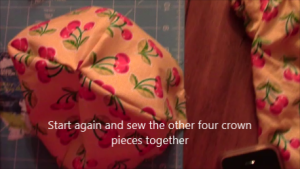 One you have the two crowns, you want to line up two of your brim pieces with the patterns facing each other.  Sew the small short ends together as indicated on the pattern pieces.  Then do this for the other two pieces as well so you have two full circle brim pieces.
Next, you want to connect the brim pieces to the crown pieces.  You do this by magic.  Hah, no just kidding, you face fabric to fabric again and sew around the edges.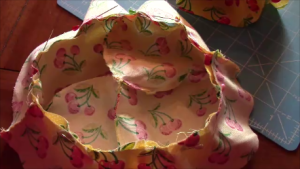 Then you will end up with two formed hats!  Trim around the seems.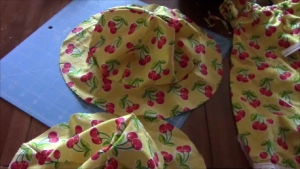 Next you want to make 2 into 1!!!  So to do this, you need to place fabric to fabric again. So put one hat inside out and line up the outside brim pieces again.  Remember to match up the seems of the crown and brim to each other.  Pin, then sew around the outside leaving a 3 inch opening.  This opening will allow you to turn the hat right side out.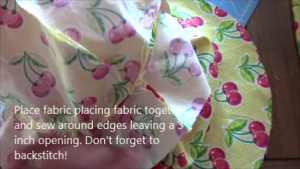 Once completed turn right side out by pulling the fabric through the opening.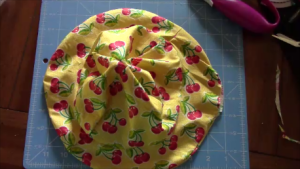 Now, you want to sew that hole closed.  To do this, fold in the edges and either press or pin to stay.  Then sew it closed baby!  Press the seems
So this is your hat.  If you want to add a button or lace continue on.
I decided to add lace to match the peasant dress tutorial completed last week.
Line the lace up with the brim and pin.  Then just sew on!  AND WA=la!  Beautiful matching hat complete!


Follow