Want to sew quick and easy crowns for a party or get together?  Then you've come to the right place!  I made a last minute decision days before my daughters' first birthday party that we needed crowns!  The theme was rubber ducky, so I decided to make birthday crowns instead of hats!  Young kids and babies don't enjoy hard hats on their head and also shouldn't have a rubber band or elastic around their neck.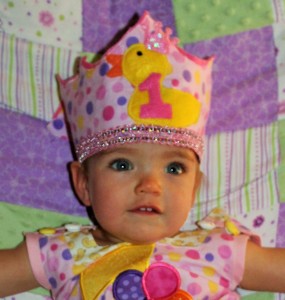 As you can see they are very cute for photo shoots as well!  She didn't particularly like keeping it on, but I got a couple good shots!
As usual, there is a YouTube video and also a written explanation below.  I didn't have a lot of time to embellish the other crowns but you can always spice things up with some ribbons, bows, glitter, rhinestones, or buttons!
To get started you need:
1) Choice of fabric and design
2) Scisscors
3)Thread
4) Closure for crown (velcro, button, ribbon) or you can sew all the way around if you know the exact size
Cut your fabric for the main part of the crown 4 1/2 x 18 inches
Make your own crown pattern by drawing the top on a piece of paper and cutting it out!
Cut your design onto your fabric to make the shape of your crown! If you want a felt backing with another color cut that out as well.
Next, pick out your ribbon if you are using one, if you want any other embellishments get them ready!  I made a felt duck that I sewed onto
the crown.
Line up your crown pieces and sew all the way around!  Then you are done! If you want to add button loops and buttons you can sew them on as well.
Congrats and enjoy the party!  Check back often for new crafts or subscribe below!
Share


Follow