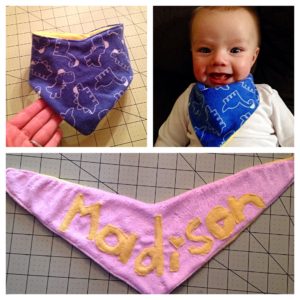 Once the drool starts it doesn't stop!  I saw an adorable bandana drool bib in a store and thought, I could easily make that!  And you can too!  It is a simple 5 to 10 minute project that makes a great gift and a fantastic accent and cute and functional accessory for your little one.
As always, there is a youtube tutorial and the written steps on here!  Hope you enjoy!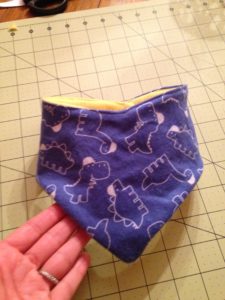 This is for size 6months to 12months.
What you will need:
1) Two Fabrics (one side needs to be absorbent). I used a cute flannel fabric and then a yellow fleece material for the back.
2) Velcro or snaps to hold it shut
 Fold your fabric in half. Cut out two triangles, one with each fabric (you can use my measurements or compare to your bib size for your little one) .  I used the measurements of  9in long and 7 1/2in on the fold.
Next, you are going to make a cut for the neckline about 3 inches in from the side
and 2 inches down the fold.
Cut the little triangle off the very end, abut half an inch, this is where the velcro will connect.
Take pattern side facing pattern side and sew all the way around leaving a small
opening around 2 inches (this is where you will pull it right side out)
Now pull it right side out and hand sew the hole shut and VOILA! drool bib
complete!
Iron press it!  You can also go around the whole outside and sew it if you like for the design look!
Next you want to attach either your velcro or snaps.  I have iron on velcro I used.
Hope you enjoyed this tutorial, if you have questions just post! Thanks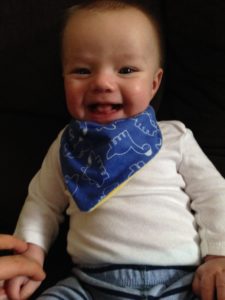 Share


Follow